The summer program at Angels Montessori is during the months of July & August. The program combines the best of both worlds; an active program full of fun and a soft academic training program to prepare for the school year. It helps our new students to have an easy transition entering the program and our current students to have a different curriculum for the summer.
DOWNLOAD PDF VERSION OF THIS CHART HERE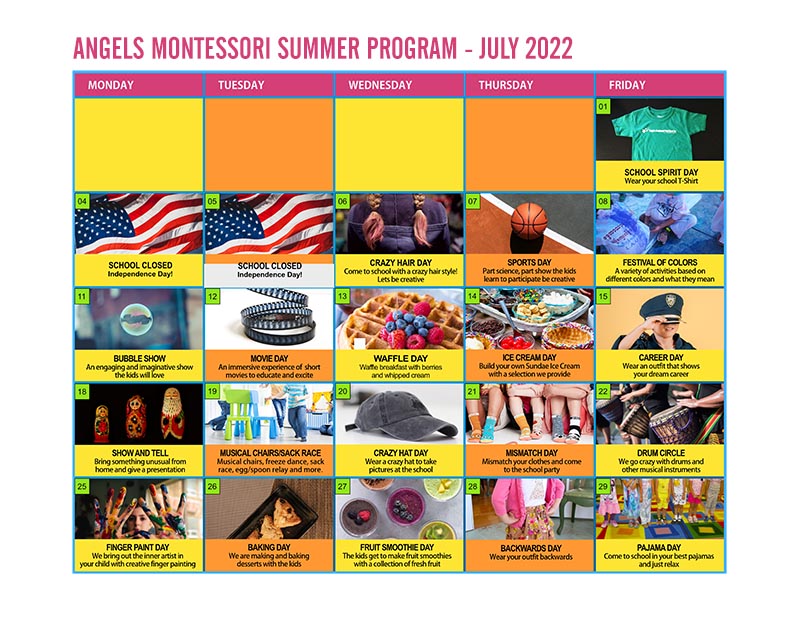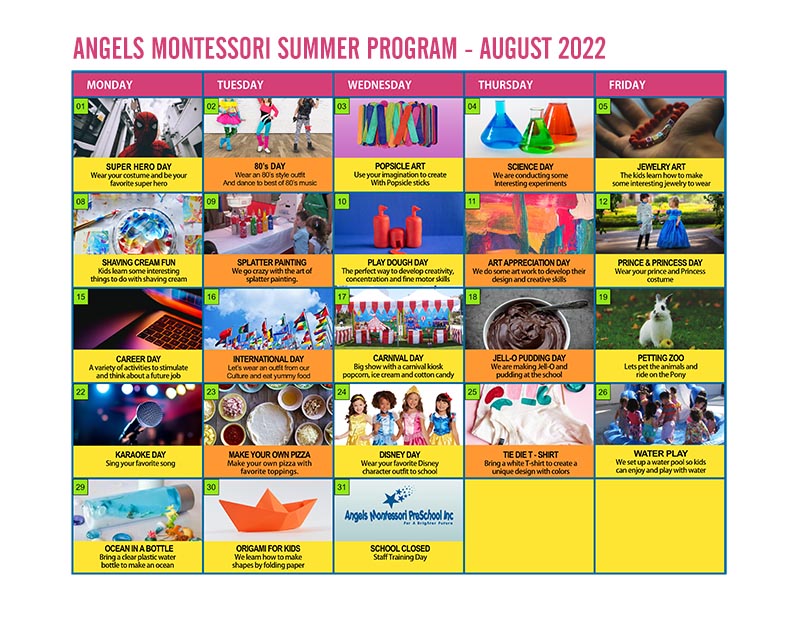 Many of you have may heard the old adage " All work and no play makes Johnny a very sad boy ". This is definitely true. Children who play go on to achieve much higher levels of success. It is not enough to excel at academics. Play helps children make many friends. Friends help each other get jobs, friends will expand their knowledge, friends will help your child solve problems and so much more. They say a person with a thousand friends will never be unemployed.
TEAMWORK
Our summer program is also designed to enhance cooperative play and team work. It will challenge your child. It will force them to develop social skills. If your child is an introvert and very shy we will bring them out of their shell with the latest techniques and skills in child development.

RESPECT AND CIVIC DUTY
We also invite the local Police and Fire department to visit our school during summer. To demonstrate fire hazards and learn fire safety skills. They learn to respect the law and understand it. It also a way for the school to develop a good working relationship with emergency care workers. Sometimes summer should also be filled with lazy days. Without structure. With fewer rules or set times. Because only then will your child understand and appreciate why we need order in the chaos of life. For example we might ask each child to lead the class and supervise other children. As each child struggles with leading a whole class, they dig deeper into their powers of persuation and truly understand skills required to achieve that.
LEADERSHIP AND PUBLIC SPEAKING
How comfortable is our child singing in front of a crowd? We will give them a microphone and ask them to sing a song in front of their classmates. While terrified at first, the vast majority of children get comfortable with that idea. These skills will help them in high school or even much later in life when they have to make a presentation in front of hundreds of not thousands of people. Or perhaps your child will develop into a famous singer, because the school was able elicit your child's hidden talents. So there you have it. A truly innovative summer program where we can discover your child's talents, develop their social skills, improve their general knowledge, build leadership skills, and keep them physically fit. But the only way to do that is to challenge and push them. To teach and condition them to a higher standard of excellence. What we call the new normal, But to do that you have to participate. And you the parent have to make that clear choice. Because what you do now will set the stage for future success. So come and join us for summer. It is fantastic!